Paintless Dent Repair You Can Count On in
The Woodlands TX
Call For More Information: 1-346-261-5311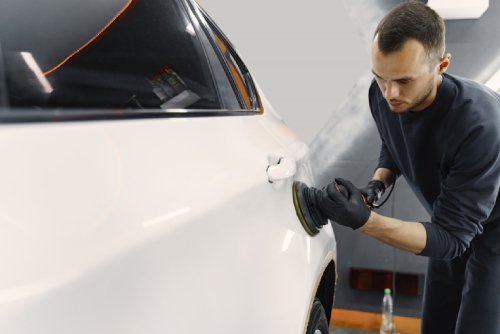 Dents and dings negatively impact the appearance of our vehicles and tend to draw the eye's attention quicker than anything. Unfortunately, these unsightly indentions are more sinister than just an eye sore on your otherwise well conditioned vehicle. Having dents in your vehicle, that you choose not to repair can result in expensive consequences for your vehicle. Your vehicle becomes instantly more vulnerable to the elements once it has been dented or dinged. Whenever your vehicle is vulnerable in this way, you have to look out for rusting and weakening of the panels. Not to mention, having a vehicle with dents, especially those that are brought on from a hailstorm, will significantly decrease the resale value of your vehicle. This is why dent repair is the obvious choice for many people. Do not wait around for the repair costs to skyrocket, take care of the problem while it is simple and inexpensive. Take care of the problem with Hail Lions today!
Mobile Dent Repair in The Woodlands TX
With the hussle and bussle of everyone's life, Hail Lions knows how difficult it can be to break away from your schedule to find the time to have your vehicle's damage repaired. It is easy to let dent repair fall to the bottom of your priorities, as it does not immediately impact the functionality of your vehicle. This is why Hail Lions has made it easier than ever to take care of your dent problem before the problem is out of hand. We are a completely mobile dent repair company. This means, we come to you and repair your vehicle on the spot. You can schedule us to come out to your vehicle while you are at work, at home, visiting family- anywhere that is convenient to your lifestyle.
Paintless Dent Repair on Classic Cars in The Woodlands TX
Paintless dent repair is safe for all vehicles, this includes your vintage classics. By eliminating the paint matching process, we are able to restore all types of vehicles. Our system for dent removal is so reliable we offer a lifetime warrant for the repair.
Best Dent Repair in Baytown TX
At Hail Lions we pride ourselves on offering the best mobile paintless dent removal and hail damage repairs to the Greater Houston area, including but not limited to Atascocita, Baytown, Conroe, Cypress, Houston, Katy, Kingwood, Pearland, Spring, Sugar Land, Tomball, The Woodlands. Our team of professional technicians specialize in paintless dent removal and hail repair. Our our services are completely mobile. Meaning we come to your location and repair, restore and renew your vehicle on site. All our repair services offer a lifetime warranty for as long as you own your vehicle. Hail Lions: The King of Dent Repair.
Hail Lions LLC
5100 Westheimer Rd,
Houston, TX 77056, United States
1-346-261-5311
https://www.facebook.com/dentlionllc
QUICK QUOTE
Paintless dent removal is a delicate process and demands the best experience at all times.Hail Lions offers true practical knowledge and takes tremendous pride in our work.
We have established a strong reputation for being the best at what we do. We don't cut corners when it comes to the integrity of your vehicle and more importantly the quality of your repair. Our service is fast, affordable and done right, on-site with a lifetime warranty and satisfaction guarantee. 1-832-579-5541