Mobile Dent Repair
Call For More Information: 1-346-261-5311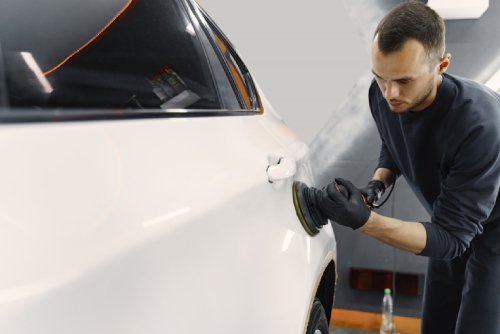 Mobile Dent Repair Houston TX
Hail Lions provides Houston with the best mobile paintless dent repair service near you! In today's world, it's go, go, go. Finding time for anything but work and a little family time can be a hard task. Understanding this, we have brought the easiest most convenient mobile dent removal service to clients in the Houston area. We believe you shouldn't have to take time out of your busy day when we can bring the shop to you.
Why use a mobile dent repair (Pdr mobile) instead of a conventional body shop?
Taking your vehicle to a conventional collision repair facility can be costly and time-consuming. You leave work and go to the shop for an estimate. Once you get the estimate you may have to wait a few days for the parts to order and arrive at the shop. Or you schedule for another day when the shop has time. Then you when the day arrives, you take off work and drive to the shop to drop your vehicle off for repairs. You may need to get a rental, so you will need to go there and go thru there process. Then maybe you can get back to your day. If for some reason you didn't leave something important in your car. As you can see this can be a daunting process and that is only dropping off to start the repair. Picking your vehicle up is no less of a hassle.
When you call Hail Lions our mobile dent repair service makes all this outdated and unnecessary. Our process takes a few simple steps.
Text, email, or message a photo.
We send you an estimate. With the estimate will come a link to our available days and times. This link will allow you to select the one that is most convenient for you. Then enter your information including the address of the location you would like to meet.
On the day and time of the appointment, our technician will meet you at the location you entered, and perform the repair while you go about your normal day.
The technician will call when the repairs are done, so you may come out and inspect your dent repair.
Once you have looked the vehicle over and are 100% satisfied, you then make the payment to the technician.
Fast, simple, and hassle-free. Our mobile dent repair service is without a doubt the most hassle-free in the industry.
Will the price of the repair change?
As long as all damage is visible in the photo, No. All damage that is visible in the photo at the time of the estimate will be fixed for the quote given. If there is additional damage that is not visible in the photo then any price change will be discussed and agreed upon before repairs begin. Price will also be discussed if a price range is given at the time of the estimate.
How long will the repair take?
Repairs usually take between 1 and 3 hours. In the case of large dents, it may take longer. Hail damage may take a few days. If you have questions about how long your repair will take please ask at the time of estimate.
How will you repair my vehicle?
All mobile car dent repair is done using the paintless dent repair method.
Will all damage be repairable using this mobile service?
No. Most none collision dents are repairable using our mobile dent service, but major collision damage where parts are needed to replacing or there is paint damage will need a full-service collision facility.
Do you offer Mobile scratch repair also?
Yes. We do offer mobile scratch touch up in addition to mobile dent repair. This is an add-on and the price will need to be assessed at the time of repair. We like to make clear that scratch repair is not perfect. While we use the best product on the market no paint touch-up will look as good as your original finish.
What if it is raining at the time of repair?
If it is a heavy rain and there is no cover under which to perform the repair we will need to reschedule. If it is only a sprinkle or summer shower we will do our best to wait out the rain.
There are a few additional things before scheduling the repair. The safety of our technicians is important to us. They will need a safe place to work. Repairs cannot be performed on a busy street. Parking lots, driveways, and parking garages are fine. If the dent repair is to be performed in a paid parking area the client will be responsible for any costs incurred.
QUICK QUOTE
Our mobile dent repair Houston, TX team can repair, restore and renew your vehicle within days and not weeks.
We have established a strong reputation for being the best at what we do. We don't cut corners when it comes to the integrity of your vehicle and more importantly the quality of your repair. Our service is fast, affordable and done right, with a lifetime warranty and satisfaction guarantee. 1-346-261-5311
Related Articles