Baytown TX
Call For More Information: 1-346-261-5311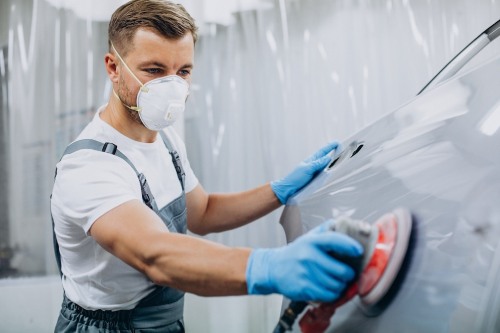 Paintless Dent Repair Baytown TX
Hail Lions offers paintless dent repair in Baytown TX, and the surrounding areas. We have paintless dent repair Baytown TX professional technicians to ensure all of our clients are given convenient and affordable care they can trust, in a timely manner. Our paintless dent repair Baytown TX technicians are able to repair pesky dents without the need for paint, ensuring your vehicle is left with a flawless factory finish.
Avoiding the use of paint helps to cut down on service time and also ensures your vehicle does not have a patchy paint job with a messy incohesive finish.
How does paintless dent repair work?
Hail Lions paintless dent repair Baytown TX experts have come up with a trusted method for removing dents without the use of paint or fillers. Our process is done by getting behind the affected area of your vehicle and gently pushing the frame into place from behind the dent. We use special tools that are gentle on all types of vehicles.
Mobile Dent Repair in Baytown TX
At Hail Lions, we believe in customer convenience! This is why we offer mobile dent repair in Baytown TX and the areas surrounding it. We know what a hassle bringing your vehicle to an auto body repair shop, sometimes having to leave it for days at a time, can be! This is why our services are completely mobile. We come to you, whether you are at work, home, or somewhere else, and we fix your dents on the spot! This makes dent repair easier than it ever has been before! Do not let the damage from your dents get worse over time. Instead, contact Hail Lions today for the best mobile dent repair in Baytown TX!
Quality Work
Top-Rated Dent Repair Service
Retain Vehicle Value
With Our Repair Services, You Can Retain Your Vehicle's Value
Door Ding Repair in Baytown TX
At Hail Lions, we provide the most reliable door ding repair in Baytown TX and the surrounding areas. Do not waste your time or money, bringing your dented vehicle into a crowded auto body repair shop! They will overcharge you and potentially want to replace parts of your vehicle, which will lower the value of your car! Plus, unoriginal parts can stand out from the rest of your vehicle, making them just as distracting as your original problem was! Skip all of the hassles and work with Hail Lions instead!
We are the experts when it comes to door ding repair! We will preserve all of your original parts as well as protect your factory paint job! We have specialized dent removal tools that we use to get beneath the dents and gently massage them out of your frame! Our system for dent removal is safe for all types of cars including classic and vintage models! Work with the PDR professionals at Hail Lions for the best door ding repair in Baytown TX!
About Baytown, TX
The area of Baytown began to be settled as early as 1822. One of its earliest residents was Nathaniel Lynch, who set up a ferry crossing at the junction of the San Jacinto River and Buffalo Bayou. The ferry service that he started is still in operation today, now known as the Lynchburg Ferry. Other early residents of Baytown include William Scott, one of Stephen F. Austin's Old Three Hundred, and Ashbel Smith, who owned a plantation in the area. One of Baytown's first babies born was Gertrude Gardner.
The city now known as Baytown was originally three separate towns. The first of these was Goose Creek, named for the bayou of the same name where Canada geese wintered and whose name is still reflected in the area's Goose Creek school district, whose establishment dates back to before…
QUICK QUOTE
Our paintless dent repair hail damage team can repair, restore and renew your vehicle within days and not weeks.
We have established a strong reputation for being the best at what we do. We don't cut corners when it comes to the integrity of your vehicle and more importantly the quality of your repair. Our service is fast, affordable and done right, with a lifetime warranty and satisfaction guarantee. 1-346-261-5311
Related Articles