Sugar Land TX
Call For More Information: 1-346-261-5311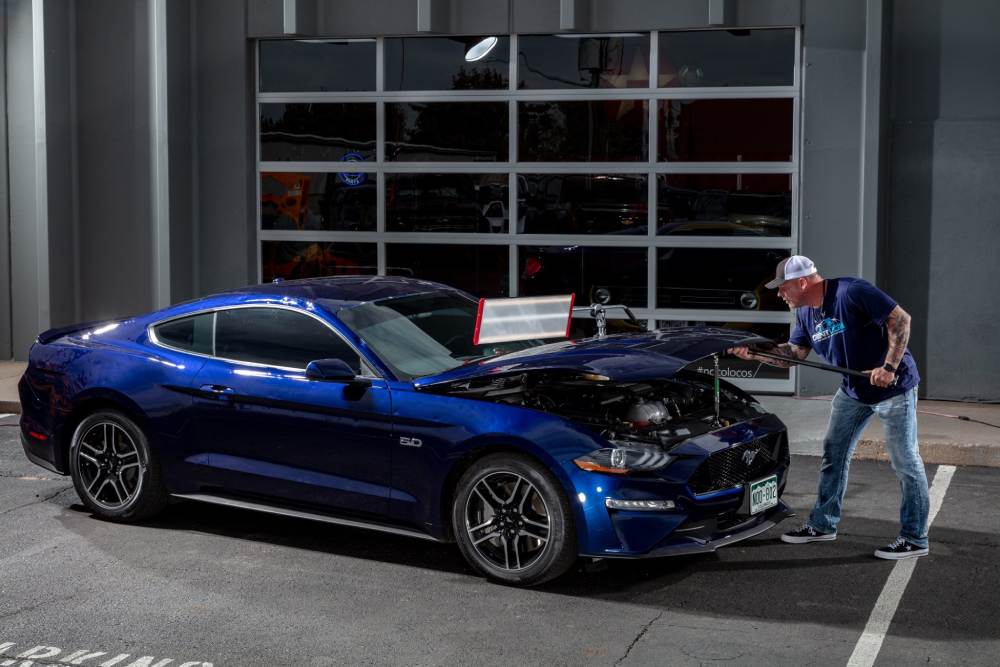 Paintless Dent Repair Sugar Land TX
Hail Lions provides excellent paintless dent repair in Sugar Land, TX and the other communities of the area. We have consistently made it our goal to provide each one of our clients with paintless dent repair Sugar Land TX services that are performed in a quick, convenient, and affordable manner.
Our paintless dent repair Sugar Land TX technicians do not use paint or paint fillers which cuts down the repair time drastically. Additionally, without the use of paint we are able to keep your vehicle's original paint job in pristine condition.
What is paintless dent removal?
Hail Lions has a process for dent removal that does not require the use of paint or paint fillers. Instead, our paintless dent repair Sugar Land TX staff use specialized tools and rods, that are gentle enough to use on all types of cars, to push out the dent from the underside of the frame. This returns your vehicle's frame back to its original form.
Mobile Dent Repair in Sugar Land TX
At Hail Lions, we care about our customers getting the best services possible! This is why we provide fully mobile dent repair in Sugar Land TX. We offer fully mobile services because we know how much of a hassle dealing with overcrowded auto body shops can be. No one has the time to drop their vehicle off, sometimes for days at a time waiting for it to be fixed. Skip the shop, when you work with Hail Lions we come to you and fix your dent on the spot! When you work with Hail Lions you are choosing to get the best mobile dent repair in Sugar Land TX.
Professional Services
Get Rid of Small Dents Perfectly
Cost-Effective
Get ready Quality Service at the Best Rates
Door Ding Repair Sugar Land TX
At Hail Lions we work hard to ensure all of our clients are given the most reliable door ding repair in Sugar Land TX and the areas surrounding it. Are you driving a vehicle with a dent or ding? Do not waste your time with pricey auto repair shops that do not specialize in dent repair, instead, contact the paintless dent repair experts at Hail Lions! Unlike at auto repair shops, Hail Lions never compromises the integrity of your vehicle by replacing original parts of the frame or touching the factory paint job. By maintaining your original parts we are able to protect the value of your vehicle.
Our process for dent removal involves using specialized that are safe for all types of vehicles, including classic and vintage models. We gently massage out the dents from the underside, making your vehicle's form return back to normal. If you are searching for the best, most reliable door ding repair in Sugar Land TX, contact Hail Lions today!
About Sugar Land, TX
The trains running through Sugar Land are on the route of the oldest railroad in Texas. They run adjacent to the sugar refinery, west of the town, and through the center of what used to be known as the Imperial State Prison Farm, now redeveloped largely into the suburban planned community of Telfair.
As a company town from the 1910s until 1959, Sugar Land was virtually self-contained. Imperial Sugar Company provided housing for the workers, encouraged construction of schools, built a hospital for the workers' well-being, and provided businesses to meet the workers' needs. Many of the original homes built by the Imperial Sugar Company remain today in The…
QUICK QUOTE
Our paintless dent repair hail damage team can repair, restore and renew your vehicle within days and not weeks.
We have established a strong reputation for being the best at what we do. We don't cut corners when it comes to the integrity of your vehicle and more importantly the quality of your repair. Our service is fast, affordable and done right, with a lifetime warranty and satisfaction guarantee. 1-346-261-5311
Related Articles