Katy TX
Call For More Information: 1-346-261-5311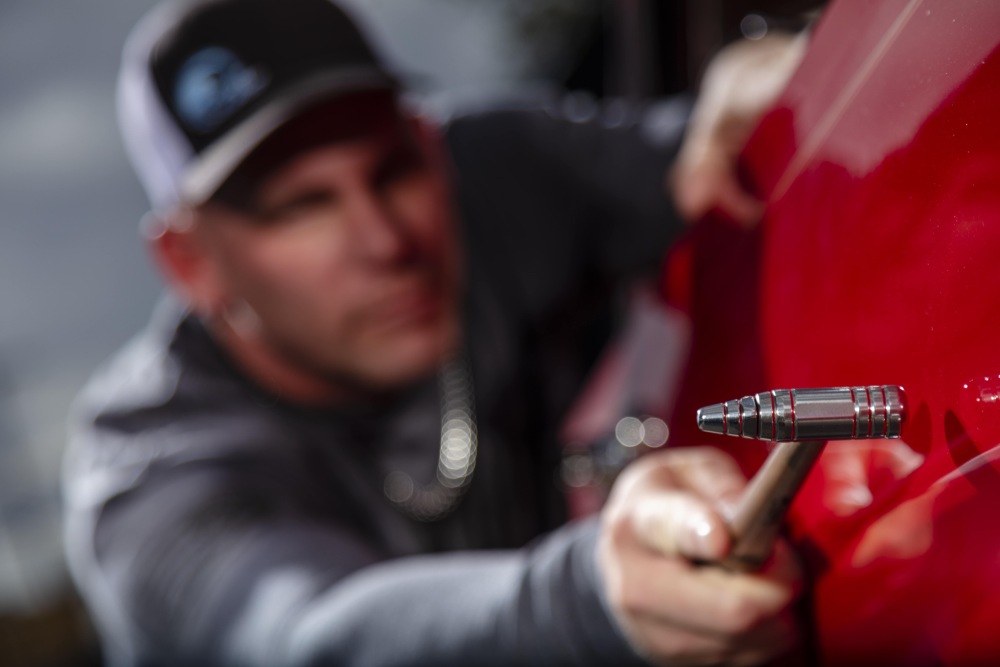 Paintless Dent Repair Katy TX
At Hail Lions, we proudly provide paintless dent repair in Katy, TX and the other communities in the Greater Houston area. The paintless dent repair Katy TX services we offer are all performed in a quick, convenient, and affordable way that ensures each client is left satisfied with their vehicle's flawless frame.
Our paintless dent repair Katy TX staff have managed to perfect a method for dent removal that does not require the use of paint or paint fillers. By doing this we have cut down on service time and have also found a way to keep your vehicle's factory finish in place.
How is paintless dent repair performed?
At Hail Lions, we rely on a process of dent removal that only uses a few specialized rods and tools to remove your dents. This means we are able to avoid using paint and fillers. Our paintless dent repair Katy TX technicians gently massage the dents from the underside of your frame out leaving you with a smooth finish.
Mobile Dent Repair in Katy TX
Hail Lions makes it our mission to provide the most convenient services to our customers. This is why we offer mobile dent repair in Katy TX and the areas that surround it. We know the reason for most delays in dent repair is because no one has the time or energy to deal with the hassles of dropping their vehicle off at an auto body repair shop, sometimes for days at a time. Hail Lions cuts out all of the hassles of conventional dent repair, by coming to you, wherever you are and repairing your vehicle on the spot! Skip the shop and call Hail Lions today for the best mobile dent repair in Katy TX.
High Quality Work
As Good as Brand New
Quick Estimates
We Offer Quick Estimates
Door Ding Repair in Katy TX
At Hail Lions, we make it our mission to provide the most affordable and convenient door ding repair in Katy TX. Do not waste your money or time, bringing your car into an overcrowded auto body repair shop that does not specialize in ding and dent removal! They are overpriced and oftentimes choose to replace the affected area of your vehicle, instead of repairing it. Hail Lions is able to remove your dents and dings, while also preserving your original parts and paint job. This helps you maintain the value of your vehicle, without having a new piece that stands out more than your original dent!
We are the PDR experts because we remove dents safely from all types of vehicles, including classic and vintage models by gently massaging out the areas with our special tools. If you are looking for the best, most reliable, door ding repair in Katy TX, contact Hail Lions today!
About Katy, TX
In 1895, James Oliver Thomas laid out a town, and in January 1896 the town of Katy was named through Thomas's post office application. The name "Katy" was derived from the MKT Railroad Company and was commonly referred to as "the K-T," which was also its stock exchange symbol. This common designation soon evolved into "the Katy…
QUICK QUOTE
Our paintless dent repair hail damage team can repair, restore and renew your vehicle within days and not weeks.
We have established a strong reputation for being the best at what we do. We don't cut corners when it comes to the integrity of your vehicle and more importantly the quality of your repair. Our service is fast, affordable and done right, with a lifetime warranty and satisfaction guarantee. 1-346-261-5311