Paintless Dent Repair
Call For More Information: 1-346-261-5311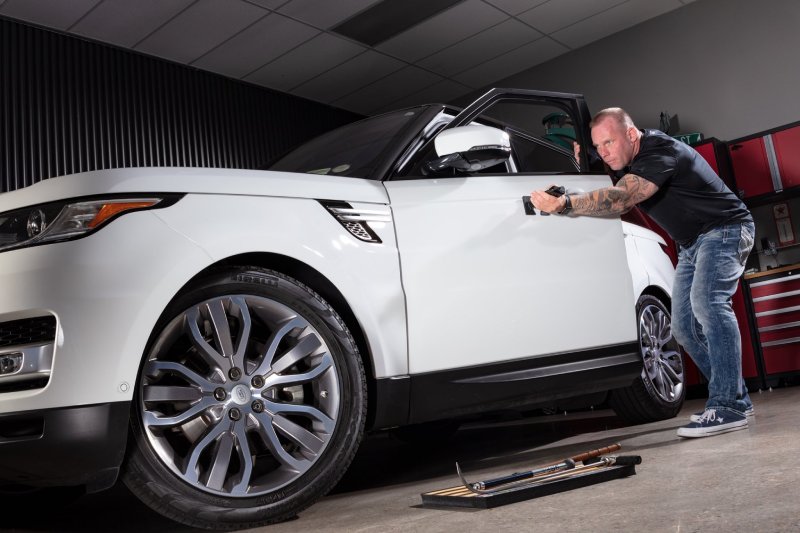 Welcome to the Hail Lions, Houston's best, most reputable auto paintless dent repair removal company. Paintless dent removal is the fastest, highest-quality process for removing dings and dents from your vehicle. Paintless dent repair, also known as PDR is an extremely specialized method that utilizes state-of-the-art tools and techniques designed to gain access behind the damaged panel. Applying pressure to the dented areas to meticulously massage, manipulate and reform the metal back into its pre-accident condition.
The PDR difference.
Our paintless dent repair technicians do not hide your damage, instead, we remove it from the backside of the panel without the use of paint fillers (body putty), sanding, or repainting the vehicle. Panels are not painted, requiring blending into adjacent panels in order to match paint color. PDR is the preferred "go-to method" for removing dings and dents from your vehicle's exterior. It's also the only form of repair that retains the original body part, and factory paint finish. We understand some clients are shopping for the cheapest price. We also want to explain that paintless dent repair takes a lot of skill. So it is important to choose your PDR company based on their reputation and reviews. No matter how low the price, it won't have any significance if the quality isn't excellent. At Hail Lions, we take tremendous pride in perfecting our craft. Our goal is to maintain the highest quality at an affordable price.
Why Hail Lions?
Hail Lions is your Houston area paintless dent removal expert. Paintless dent repair is a mixture of artistry and craftsmanship combined to remove dents and dings from your vehicle. At Hail Lions, our experienced and highly trained technicians will repair your vehicle's damage to the highest quality. Using state-of-the-art tools and techniques, we stay on the cutting edge of the PDR industry. We take perform every repair as if it was our own vehicle. One look at our reviews will show why Hail Lions stands out from the competition!
Is paintless dent repair cheaper than a body shop?
In most cases yes. Not having to replace expensive parts, or paint parts allow us to repair your vehicle for a lesser price than at a body shop. Getting a better repair at a cheaper price may seem too good to be true, but with paintless dent removal vs. collision repair, it's just a fact.
Why choose paintless dent repair over a body shop?
PDR has many benefits over conventional repairs. conventional body shop repairs use body putty (BONDO) to fill in the damage. Not really repairing it, only covering it up and then painting over it. This has many drawbacks. If not done properly the filler can crack later or scratches may show through the paint in a few months down the road. This happens often enough that there is a term for it "shrinkage". Having to paint the panel that is repaired has a lot of its own risks. Color match issues are the most common. In most cases, you will also have to "blend" the adjacent panels to hide any problems with the color not matching. All of these issues will cause your vehicle's value to plummet. Also, a conventional repair will instantly void your warranty.
Paintless dent repair allows you to keep the original parts your vehicle came with from the factory. Actually repairing the panel with the paint intact there will be no color match issues or cracking of body putty down the road. Thus, keeping your vehicle's factory finish, value, and warranty intact.
Will all the damage be gone?
In most cases, you will never see the damage again. If your repair will not be 100% our technician will discuss it with you before repair begins.
How can I get a paintless dent removal estimate?
Getting an estimate is simple. Just text, email, or message a photo to the experts at Hail Lions we will assess your damage and contact you with the price of the repair.
How long will it take to repair my vehicle using paintless dent removal?
It depends on the severity and location of the damage. Most repairs take one to three hours. Larger damage may take longer and will be discussed at the time of the estimate.
Do you offer paintless dent removal near me?
Hail Lions offers paintless dent removal to Houston and the surrounding area. Whether you live or work in Katy or Baytown, League City, or Cleveland, we can provide the best paintless dent repair near you.
How much does paintless dent repair cost?
The cost for quality PDR can vary. Depending on size, location, access, or whether a body or contour line is involved. These factors can make the dent easier or more difficult to repair. Our technicians will assess these factors before the repair begins.
QUICK QUOTE
Paintless Dent Repair is a great way to retain your vehicle's value.
Our team of experienced professionals will provide the best quality repair work on your vehicle. We provide a fast and affordable mobile paintless dent repair service so you do not have to wait for your vehicle to get fixed in the auto shop for days.
Related Articles