Pearland TX
Call For More Information: 1-346-261-5311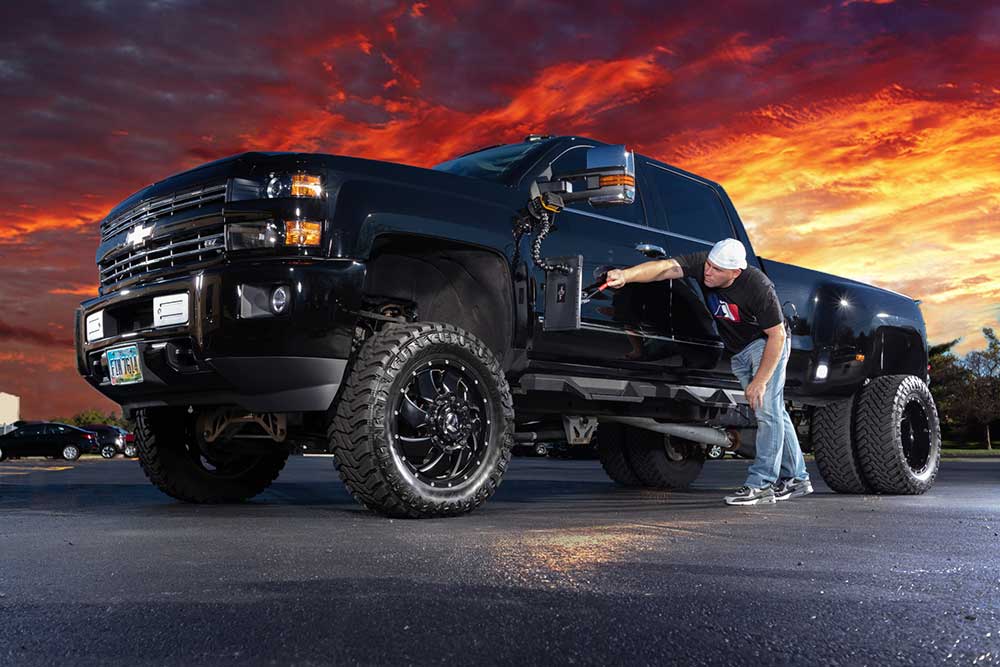 Paintless Dent Repair Pearland TX
Here at Hail Lions, we provide paintless dent repair in Pearland, TX and surrounding areas. We ensure that all of our paintless dent repair Pearland TX services are performed quickly, conveniently, and at an affordable price.
Our paintless dent repair Pearland TX technicians remove dents without ever having to use paint or paint fillers making the process go much quicker. Additionally, by avoiding paint we are able to preserve your vehicle's original finish avoiding any patchy paint jobs that can be real eyesores.
What paintless dent repair?
We have a system of dent removal that does not require the use of paint or fillers, making it a huge convenience for car owners. Hail Lions paintless dent repair Pearland TX technicians remove the dents by pushing out the dents slowly and gently, using our specialized dent removal tools to smooth out the body of your vehicle.
Mobile Dent Repair in Pearland TX
At Hail Lions, we know how busy our customers are! This is why we offer fully mobile dent repair in Pearland TX. No more dealing with the hassles of overcrowded auto body repair shops! When you work with Hail Lions, we come to you and repair your vehicle's unsightly dents on the spot! Meaning, you never have to break away from your busy schedule to get the services you need! Skip the shop, call Hail Lions today for the best and most convenient mobile dent repair in Pearland TX!
Save Money
PDR Will Help Reduce Repair Costs
Quick Estimates
We Offer Quick Estimates
Door Ding Repair Pearland TX
At Hail Lions, we work to provide our clients with the most affordable and reliable door ding repair in Pearland TX and the surrounding areas. Do not spend your money and time bringing your car into an auto body shop that will take days to service your vehicle. Not only do these places not specialize in dent and ding repair, they also will overcharge you and often times elect to replace the damaged area instead of repairing it. This is bad because when you change the original parts of your vehicle you lower its value. Hail Lions has a system for dent removal that preserves all of your original car parts and the factory paint job, allowing you to maintain the value of your vehicle.
We use our specialized tools to gently massage and push out the dents in your car, returning the form of your vehicle back to its original shape. Our process is gentle and safe enough for all type of vehicles, including vintage and classic models. Whenever you are looking for the best door ding repair in Pearland TX, contact Hail Lions!
About Pearland, TX
The area that is now Pearland had its humble beginnings near a siding switch on the Gulf, Colorado and Santa Fe Railway in 1882. When a post office was established in 1893, the community was originally named "Mark Belt". On September 24, 1894, the plat of "Pear-Land" was filed with the Brazoria County courthouse by Witold von Zychlinski, a man of Polish nobility. At the time Pearland had many fruits harvested by residents. Zychlinski saw the pear trees and decided that "Pearland" would make a good name for the community.
Pearland was promoted by developers Allison & Richey Land Company as an "agricultural Eden". The first subdivision was called…
QUICK QUOTE
Our paintless dent repair hail damage team can repair, restore and renew your vehicle within days and not weeks.
We have established a strong reputation for being the best at what we do. We don't cut corners when it comes to the integrity of your vehicle and more importantly the quality of your repair. Our service is fast, affordable and done right, with a lifetime warranty and satisfaction guarantee. 1-346-261-5311
Related Articles