Tomball TX
Call For More Information: 1-346-261-5311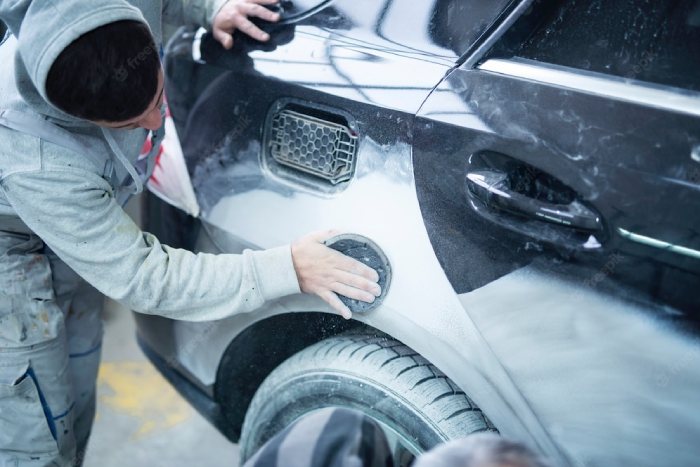 Paintless Dent Repair Tomball TX
Hail Lions proudly provides excellent paintless dent repair in Tomball, TX and to the other communities within the Greater Houston area. Consistently, Hail Lions paintless dent repair Tomball TX staff has made it a point to provide all of our clients with dent removal services that are quick, convenient, and affordable for everyone.
Our paintless dent repair Tomball TX professionals complete all of our dent repairs without the need for paint or paint fillers, making the process of repair much quicker. Additionally, this also provides safety for your vehicle's original paint job.
Why paintless dent repair?
Paintless dent repair, performed by Hail Lions, is done without the use of any type of paint or paint filler. Instead, we use specialized dent removal tools to push the dent out from the underside of your vehicle. Our paintless dent repair Tomball TX technicians do this in a manner that is gentle enough for every type of vehicle and will restore the form of your car.
Mobile Dent Repair in Tomball TX
Hail Lions's main goal is to provide all of our clients with reliable and convenient services. This is why we provide fully mobile dent repair in Tomball TX. We allow you to cut out all of the hassles and stress associated with dropping your vehicle off at an auto body repair shop, sometimes for days at a time, just to get your dents fixed. We do this by bringing the dent repair to you and repairing your vehicle on the spot! Instead of letting your dent repair worsen from lack of repair, or dealing with repair shops, call Hail Lions today and get the best mobile dent repair in Tomball TX!
Mobile Services
We Come to You For Repairs
Retain Vehicle Value
With Our Repair Services, You Can Retain Your Vehicle's Value
Door Ding Repair in Tomball TX
Hail Lions makes sure to always provide our clients with the absolute most reliable door ding repair in Tomball TX and the surrounding areas. If you have a vehicle that is suffering from dent and ding damages, do not waste your time working with overpriced auto body repair shops. These places do not specialize in dent and ding removal. Often times these types of repair shops prefer to replace pieces of your vehicle, instead of repairing them. Whenever you start replacing pieces of your vehicle you lower the value of your car. At Hail Lions, we have perfected a dent removal process that never compromises the original parts of your vehicle or the factory paint job.
Our dent removal process is safe and gentle enough to use on all types of vehicles, including vintage and classic models. If you are tired of driving around with dents and dings in your vehicle, and are looking for the best door ding repair in Tomball TX, contact Hail Lions today!
About Tomball, TX
Tomball incorporated in 1933. Because of the 1933 incorporation, Houston did not incorporate Tomball's territory into its city limits.
Tomball continued to grow over the years and hit its second major boom after World War II. People began to desire a more comfortable life, so the entire area saw a shift of Texans migrating from the "big city" to the countryside. In Tomball, people could escape some of the…
QUICK QUOTE
Our paintless dent repair hail damage team can repair, restore and renew your vehicle within days and not weeks.
We have established a strong reputation for being the best at what we do. We don't cut corners when it comes to the integrity of your vehicle and more importantly the quality of your repair. Our service is fast, affordable and done right, with a lifetime warranty and satisfaction guarantee. 1-346-261-5311
Related Articles