Hail Dent Repair in Baytown TX
Call For More Information: 1-346-261-5311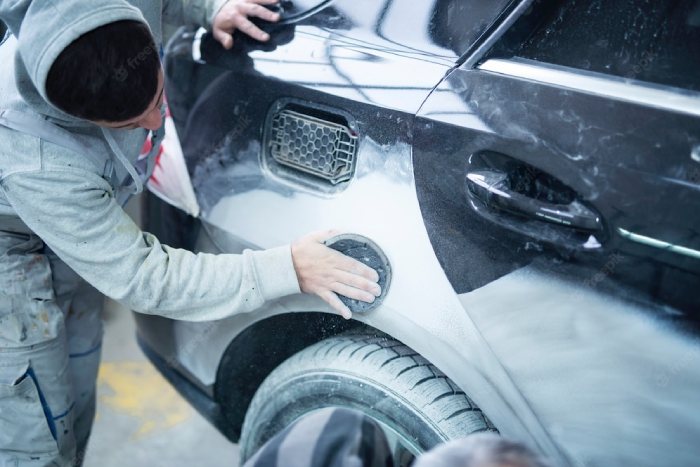 Dent and Hail Damage Repair in Baytown TX
Dent repair is not something that crosses the average person's mind everyday. However, whenever your car suffers an unsightly ding, from a collision, hail, or otherwise, you are going to want to take care of it. At Hail Lions we make it easier than it has ever been to repair the damage to the body of your vehicle and make it look as good as new. We achieve flawless repairs through a process known as paintless dent repair. Without having to use paint to repair your vehicle, we cut down on the cost for the repair, the amount of time needed to complete the project, and most importantly are able to avoid the appearance of patchwork or mismatched paint.
Paintless Dent Repair in Baytown TX
Traditional, dent repair is dependent on using paint in order to restore the dent and make your car look right. The problem with traditional repair is that it takes much more time to get less impressive results. When car's are given their original paint job, from the manufacturer, the paint is sealed with a finish that you can never recreate again. This is because the car is painted and sealed without the interior of the vehicle attached, allowing the paint and finish to be cooked on at high temperatures. Once the rest of the car is put together it will never be safe or viable to seal the paint with the original finish again. This can lead to paint dependent repair looking like patchwork, that sometimes stands out just as much as the original dent.
Mobile Dent Repair in Baytown TX
At Hail Lions we are dedicated to fixing your car in a manner that is convenient to your lifestyle. This is why we have made it easier than ever to get your dent and hail damage replaced with our fully mobile dent repair services. We come to you and fix your dents on the spot. This means you do not have to leave your car anywhere overnight, you do not have to worry about how you are going to get to work or drop the kids off at school. We come to your home, job, or anywhere else your vehicle will be parked for a couple of hours, depending on the size of the job and we service your vehicle!
Best Dent Repair in Baytown TX
At Hail Lions we pride ourselves on offering the best mobile paintless dent removal and hail damage repairs to the Greater Houston area, including but not limited to Atascocita, Baytown, Conroe, Cypress, Houston, Katy, Kingwood, Pearland, Spring, Sugar Land, Tomball, The Woodlands. Our team of professional technicians specialize in paintless dent removal and hail repair. Our our services are completely mobile. Meaning we come to your location and repair, restore and renew your vehicle on site. All our repair services offer a lifetime warranty for as long as you own your vehicle. Hail Lions: The King of Dent Repair.
Hail Lions LLC
5100 Westheimer Rd,
Houston, TX 77056, United States
1-346-261-5311
QUICK QUOTE
Paintless dent removal is a delicate process and demands the best experience at all times.Hail Lions offers true practical knowledge and takes tremendous pride in our work.
We have established a strong reputation for being the best at what we do. We don't cut corners when it comes to the integrity of your vehicle and more importantly the quality of your repair. Our service is fast, affordable and done right, on-site with a lifetime warranty and satisfaction guarantee. 1-346-261-5311