How Paintless Dent Repair Works in Houston
Call For More Information: 1-346-261-5311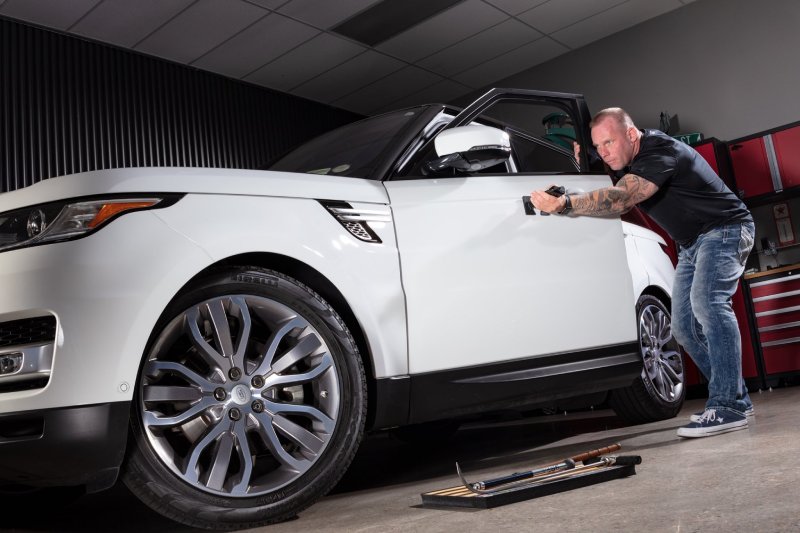 Paintless dent repair (PDR) is a method used to remove and lessen the appearance of dents from the body of a motorized vehicle. PDR is fairly versatile and an be used to repair a wide range of damage. The only necessary stipulation for paintless dent repair to work for repairing a dent is that the paint surface is intact. PDR works well for repairing damages on both aluminum and steel panels. Most of the vehicles we see today have refined automotive paint finishes that successfully allow for PDR to work. The size of the dent is less of a factor than the density of it when determining if PDR will work to repair it. Here at Hail Lions our technicians are highly trained with experience you can trust, if it is possible to repair your car's damage through PDR we will make it happen.
Paintless Dent Removal Techniques Houston
The most common technique for paintless dent repair is using metal rods and body picks to manually push out each dent from the underside of the vehicle's body panel. Specific to dent repair tabs paired with glue may be used to pull out the dents from the outside of the panel as well. Once the bulk of the dent is fixed, fine tuning the repair often requires tapping down the repair with extreme attention to detail to remove the small high spots. These high spots are dimply and unsightly- they are referred to as, "orange peel." It is important not to push too hard because this can lead to cracks and splits on the clear surface paint which will stand out. Only trust an experienced technician, like those as Hail Lions, to apply heat when repairing your vehicle's body damage. Inexperienced technicians may crack or chip into the paint when they use heat on sensitive, damaged areas.
Paintless Dent Removal Problems Houston
Whether your vehicle has experienced a minor door ding, all over hail damage or more extreme- larger dents, paintless dent removalis a proven restoration process and preferred repair method by nearly all insurance companies. The process in which you repair your damaged vehicle can significantly affect the overall value. It is almost impossible to match the color and recreate the same finish on your vehicle as it's original factory paint job. It is so difficult to match because factory paint is usually applied and baked at extremely high temperatures before any rubber, plastic, or cloth parts are installed. Once these parts are installed a repainted vehicle will never be able to be cured the same way a factory finish is resulting in an inferior finish.
Hail Lions LLC
5100 Westheimer Rd,
Houston, TX 77056, United States
1-346-261-5311
QUICK QUOTE
Paintless dent removal is a delicate process and demands the best experience at all times. Hail Lions offers true practical knowledge and takes tremendous pride in our work.
We have established a strong reputation for being the best at what we do. We don't cut corners when it comes to the integrity of your vehicle and more importantly the quality of your repair. Our service is fast, affordable and done right, on-site with a lifetime warranty and satisfaction guarantee. 1-346-261-5311