Katy TX – Hail Damage Repair
Call For More Information: 1-346-261-5311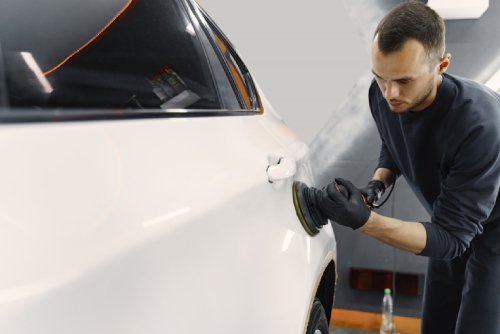 Did your car or truck get damaged in the recent hail storm that hit Katy Texas?
Hail Lions is here to help you through the repair process.
Who do I call to repair hail damage to my car? Is the shop close?
Hail Lions offers the best hail damage repair in the Katy area. Being the area busiest paintless dent repair company we have built our reputation through quality repairs and great customer service.
There are a lot of hail repair companies. How do I choose?
Start with a local company. While supporting your local dent repair company is great it also has a lot of benefits. Most hail repair companies "chase" hail meaning they migrate around the country or world. They may say they, warrantee, the repair, but how can they when they will be gone in three months or less. Hail Lions Hail Repair will be here long after they are gone.
Is hail damage expensive?
Most auto hail damage repair is costly. The number of dents involved makes the repair difficult and time-consuming. The size of the dents is also a factor. Luckily Hail damage is not like a collision repair, It is out of your control and your insurer knows this.
Should I file a claim?
Yes, an insurance claim is absolutely the way to go in most cases. A hail storm is considered an act of nature, they're far out of your control. Filing a claim will not raise your rates. The expense will almost always be higher than you deductible. So a claim is more cost-effective.
Will my car be repainted?
In most cases no. We use the process of PDR (paintless dent repair) to repair your vehicle. Keeping your vehicle's factory paint intact as well as the value. Only in the most extreme cases will we need to have a few panels painted.
Can you save my deductible?
Unfortunately saving deductibles is illegal in Katy and Texas as of September 2019. We do offer up to $500 in repair credit. Redeemable through repair service or Visa gift card.
Will I still see the hail dents?
No, Hail Lions only employs the best technicians in the business. Your damage will be repaired 100% or you owe us nothing. That's right 100% customer satisfaction guaranteed.
QUICK QUOTE
Our paintless dent repair hail damage team can repair, restore and renew your vehicle within days and not weeks.
We have established a strong reputation for being the best at what we do. We don't cut corners when it comes to the integrity of your vehicle and more importantly the quality of your repair. Our service is fast, affordable and done right, with a lifetime warranty and satisfaction guarantee. 1-346-261-5311